October 27, 2022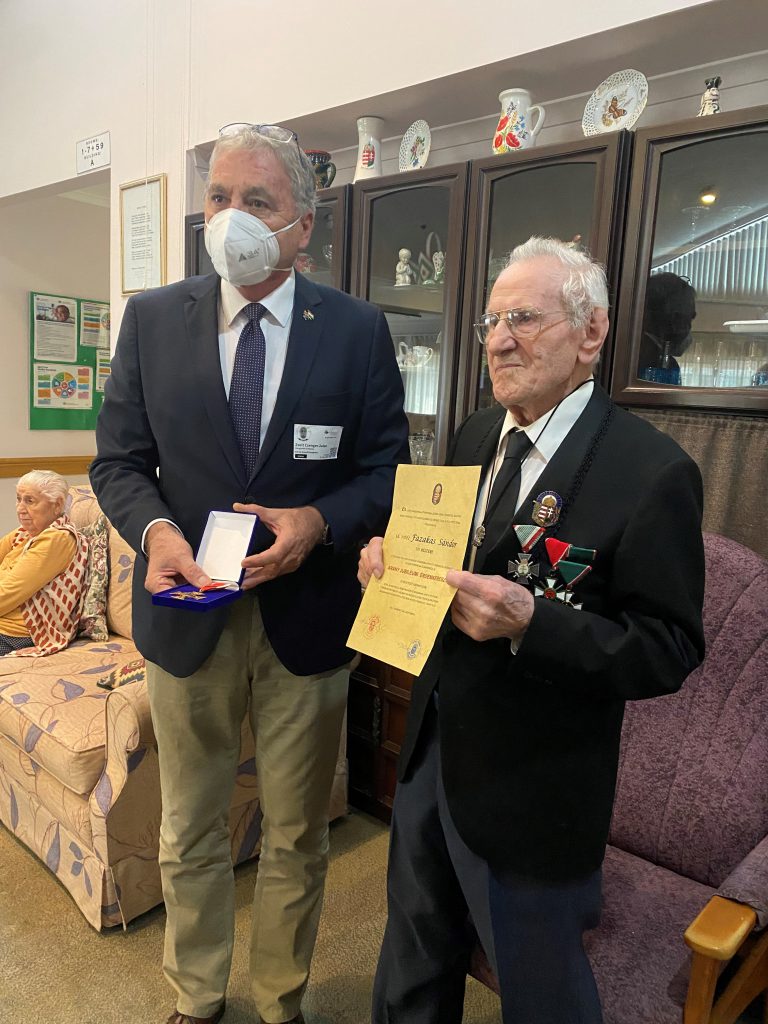 Csenger-Zalán Zsolt the new Hungarian Ambassador to Australia flew down from Canberra to Melbourne to help the local Hungarian community commemorate the Hungarian Uprising of October 23, 1956. He combined this with a visit to the Árpád Home for Elderly Hungarians on Saturday October 22. He was given a tour of the building and then had an opportunity to meet some of the elderly residents. After addressing them in a brief speech, the Ambassador presented vitéz Fazakas Sándor with the Arany Jubileumi Érdemkereszt from the Order of Vitéz together with a certificate recognising his merits. Vitéz Fazakas Sándor, overcome with emotion, thanked the Order of Vitéz, the Ambassador and those present for making his day so memorable.
This was a truly historic occasion as Sándor bácsi will be 104 years old on November 28, 2022. He is the oldest living vitéz in the world today and is also the only member of the Order of Vitéz still living who received his award from the Regent of Hungary and Captain General of the Order of Vitéz, vitéz nagybányai Horthy Miklós himself, in a ceremony in Budapest during the war time years.
After the presentation ceremony at the Árpád home, some of the residents who are members of the Order along with his son and granddaughter joined vitéz Fazakas Sándor for a celebratory champagne. Present were vitéz Kövesdy Ámon Lilla, özv. vitéz Kövesdy Dezsőné, Sarolta, vitéz Fazakas Sándor junior, vitéz Fazakas Caroline and Teleky Ilonka.
---