December 11, 2022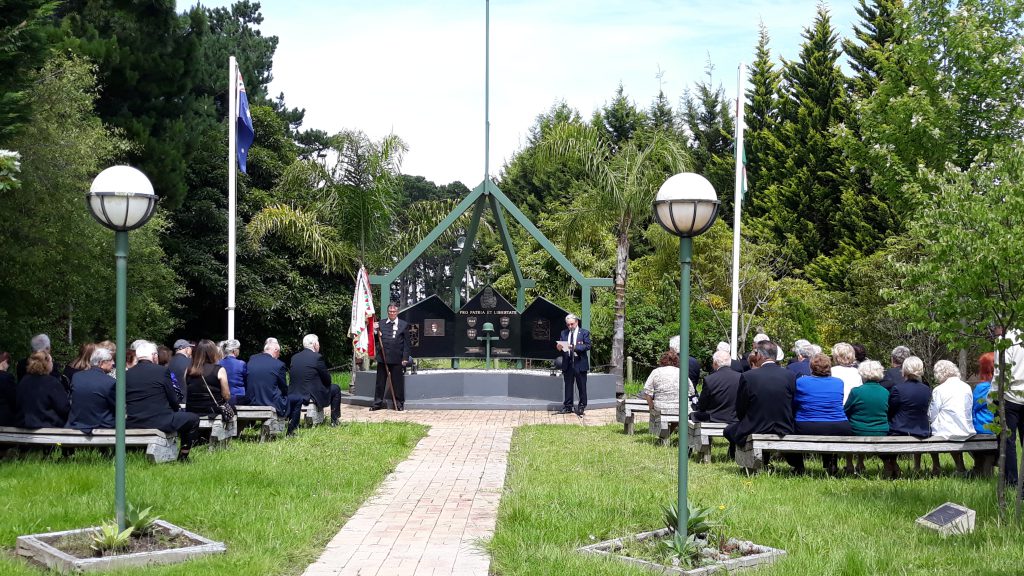 Author: Vitéz István Világos, Seat Captain of Victoria Region, Australia
Members of the Order of Vitéz and guests gathered at the Heroes Memorial at the Hungarian Community Centre in Melbourne on a bright, sunny Saturday morning on November 26, 2022.
Vitéz Lilla Kövesdy Ámon, Lieutenant of the Victorian Branch opened the ceremony. She welcomed the Roman Catholic priest, Father Zsolt Kiss, the Hungarian Consul in Melbourne, Mihály Geiger and his wife Erika, the Order of Vitéz representative from New South Wales, Sándor Vass and his wife Anna, and members and friends.
The short program outdoors commenced with Sándor Vass remembering the not long departed Australian Staff Captain vitéz nemes Joseph Tassányi. He highlighted the importance of maintaining Hungarian cultural and religious values.
Mihály Geiger, in his keynote address mentioned the relevance of retaining traditions and culture encapsulated in the words "God, Nation, Family". The Order of Vitéz, whether in the diaspora or in the homeland are faced with a heavy responsibility and much hard work leading to the promise of a bright future.
János Bakos recited a beautiful poem called "Végső magvetés" translated as "The Final Sowing of the Seed". The poet, Tibor Tollas dedicated the poem to his Australian friends whom he met on an Australian visit in 1973.
The program continued with a minutes' silence for the Vitéz members who departed this life during the past year.
Father Kiss gave a blessing to the gathering. Wreaths were laid at the Heroes Memorial in remembrance of all Vitéz throughout Hungarian history who gave their lives for the freedom and liberty of the Hungarian nation. The formalities ended with the singing of the Hungarian national anthem.
The afternoon proceeded with lunch at the Social Club. Vitéz Lilla Kövesdy Ámon congratulated v Sándor Fazakas on his forthcoming 104th birthday.
Vitéz Sándor Fazakas junior entertained guests with two charming guitar solos.
Vitéz István Világos, Victorian Seat Captain, regretfully could not attend the celebration.
He sent the following message:
"Even though absent, I respectfully send greetings to my fellow members of the Order and to the guests and last but not least to my friend Sándor Fazakas, who at age 104 is the oldest Vitéz in the World and a truly shining example to all of us. My thanks to Lilla for organising the day and to János for his readiness to help at all times."
---